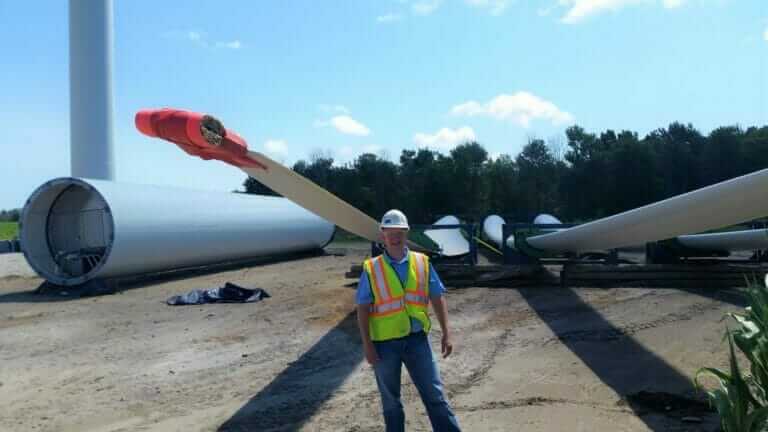 Several wind farm projects are starting to appear across the Michigan landscape as our state utilities strive to generate 25 percent renewable power by the year 2025. The U.S. currently has 84,143 megawatts (MW) of installed wind project capacity. Power producing wind turbines vary in size. But, most have 250-ft blade length, a 275 ft. hub height and an overall operating height of 390 ft. Wind energy is produced when wind spins the turbine which transfers the motion down shaft. Each shaft is connected to a generator which stores and gives our energy. One wind turbine can power 600 homes. Before wind turbines can be installed, a wind study must be conducted. A wind study is needed to approximate sustained wind speed with altitude to match the optimum performance of various original equipment manufacturer (OEM) wind turbine to site wind conditions.
Over the years, MTC has provided engineering and construction materials testing services on many wind farm projects including:
Lake Winds Energy, Mason County, MI, 56 Turbines
Harvest Wind Project, Huron County, MI
BeeBe Phase 1B Wind Project, Ithica, MI, 21 Turbines
Cameron Wind Farm, Rio Hondo, TX, 55 Turbines
Deerfield Wind Energy, Huron County, MI, 72 Turbines
Apple Blossom Wind Farm, Huron County, MI, 62 Turbines
Bruenning's Breeze Wind Energy, Willancy County, TX, 76 Turbines
Stella Wind Farm, Armstrong, TX, 67 Turbines
Turtle Creek Wind Farm, Saint Ansgar, IA, 56 Turbines
Pine River Wind Project, Shepard, MI, 65 Turbines
These projects required the setup of an onsite laboratory to expedite test results while maintaining our quality standards and controlling cost. More than 12 thousand concrete cylinders have been tested on these projects.
Our team of professionals provide dedication and commitment to our core values as they work with you on your project. Doing so, we ensure the successful completion of your project.